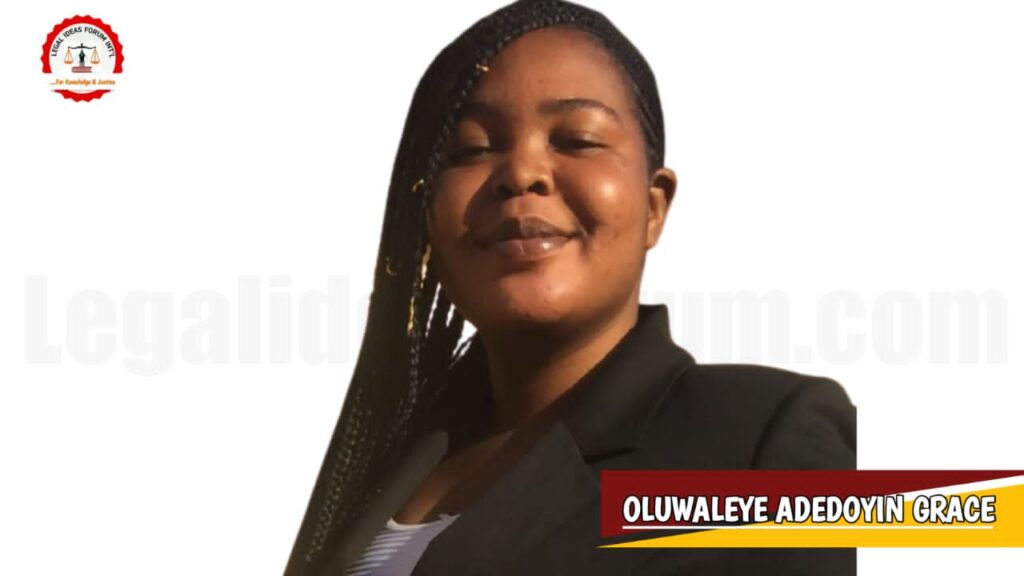 ACCESS TO JUSTICE IN NIGERIA: A CALL FOR REVIEW.
1.0 INTRODUCTION.
This article purports to examine whether justice in Nigeria is served as it should; also, a quest for the promotion and protection of human rights in Nigeria through enhanced access to justice in the country. The article also examines and shows the importance of access to justice as an essential instrument for the protection of human rights in Nigeria.
Looking at the situation of Nigeria, reality must be told, there are lots of obstacles to the realization of access to justice in the country especially in the judiciary which includes undue delay in the administration of justice, high cost of litigation, reliance on technical rules, locus standi, complex legal rules and procedure, lack of awareness, legal knowledge, etc. Indeed, corrupt judicial officers may act as serious impediments to the attainment of justice even where the infrastructures and legal instruments are well-wrought and structured.[i] The question is how well is access to justice rooted in the attainment of the rule of law? And how can there be effective access to justice for the vast majority of Nigerians?
1.1 ACCESS TO JUSTICE IN NIGERIA SYSTEM.
Access to justice in the past few years has been failed, especially in the part of the judiciary, whereas the effectiveness of the country's judicial system can be measured by the efficacy of its access to justice.[ii] Access to justice is a very important and crucial instrument for human rights and the rule of law to progress in Nigeria. Access to justice implies equal and right access to social and distributive justice. It refers to the substantive and procedural mechanisms existing in any particular society in attaining coexistence in the country.[iii]
It entails more. It has been said that access to justice is not limited to the procedural mechanism for the resolution of disputes but includes other variables like the physical conditions of the premises where justice is dispensed, the quality of the human and material resources available, the quality of justice delivered, the time it takes for the delivery of justice, the moral quality of the dispenser of justice, the observance of the general principles of the rule of law, the affordability of the cost of seeking justice in terms of time and money, the quality of the legal advisers that assist the litigants, the incorruptibility and impartiality of operators of the system.[iv]
It is also important to underscore the fact that access to justice is undeniably an important barometer for assessing not only the rule of law in any society but also the quality of governance in that society. This brings to focus the present refrain about transparency, accountability and good governance as an effective panacea for socioeconomic development.[v]
1.2 ACCESS TO JUSTICE AND HUMAN RIGHTS PROTECTION.
The relationship between access to justice and human rights protection stems from the fact that it is only when individuals have access to the courts that they can espouse and seek for the protection of their basic rights.[vi]
According to Professor Claude Ake, he addressed the importance of these obstacles in their proper context and perspective when he said:[vii] For reasons which need not detain us here, some of the rights important in the West are of no interest and no value to most Africans. For instance, freedom of speech and freedom of the press do not mean much for a largely illiterate rural community completely absorbed in the daily rigors of the struggle for survival… if a Bill of Rights is to make sense, it must include, among others, a right to work and to a living wage, a right to shelter, to health, to education.
That is the least we can strive for if we are ever going to have a society which realizes basic human rights… in Africa, if liberal rights are to be meaningful in the context of a people struggling to stay afloat under very adverse economic and political conditions, they have to be concrete. Concrete in the sense that their practical import is visible and relevant to the conditions of existence of the people to whom they apply. And most importantly, concrete in the sense that they can be realized by their beneficiaries.[viii] Indeed, to a large majority of citizens, issues of human rights protection appear to be luxuries that they can hardly afford.[ix]
1.3 FACTORS INHIBITING ACCESS TO JUSTICE IN NIGERIA.
A number of obstacles conspire against access to justice in Nigeria. Some are:
1.3.1 Delay in The Administration of Justice.
How do Nigerians live in inordinate delay in administration of justice for several decades without proffering a lasting solution to it? Very often, we see ordinary cases of unlawful termination of employment or even those for the enforcement of fundamental rights lasting between three to five years or even more.
A number of circumstances could give rise to this delay: lawyers writing letters of adjournment of cases, inability of judges and magistrates to deliver judgments on time, failure of the police or prison authorities to produce accused persons in court for trial, the rule that once a magistrate or a judge is transferred and a new one takes over a case, it has to start de novo, etc. Delay and corruption are also some of the factors hindering smooth flow of access to justice.
The bottom line is that today it has almost become an accepted fact and an undefeatable norm that in Nigeria cases must last several years in court before they are concluded, which goes against Section 36 (paragraph 1) of the 1999 Constitution, which provides that:
"In the determination of his civil rights and obligations, including any question or determination by or against any government or authority, a person shall be entitled to a fair hearing within a reasonable time by a court or other tribunal established by law and constituted in such manner as to secure its independence and impartiality."
In the same vein, Section 36 (paragraph 4) of the Constitution provides that whenever any person is charged with a criminal offense, he shall be entitled to a fair hearing within a reasonable time by a court or tribunal. Sadly, the Constitution does not define the meaning of the expression "within a reasonable time" as used in these subsections. The Supreme Court, however, had cause to define this phrase in the case of Gozie Okeke v. The State.[x]
However, it was said that in ascertaining whether the trial of an accused person was held within a reasonable time, the following four factors are to be considered, namely,
The reasons given by the prosecution for the delay;
The responsibility of the accused for asserting his rights;
and the prejudice to which the accused may be exposed.
1.3.2. High Cost of Litigation.
It is trite that one of the reasons why justice is introduced is to protect the right of the less privilege, but it is a pity the rich seem to have their way because of the cost of litigation. However, it is a well-known fact that the cost of litigation in the country is so high that the ordinary Nigerian can hardly afford adequate legal representation when he or she has a legal matter to pursue.
In other to improve their economic standing, legal practitioners in Nigeria have devised the method of collecting not only their professional fees but also other fees which can be regarded as unnecessary. e.g., transportation fees, feeding fees, 'court fees' etc., thus invariably adding to the financial burden of the litigants. Corruption in the judiciary in this aspect can even create unnecessary prolong of cases whereas it is well-known that justice delayed is justice denied.
Also, filing fees in some courts are so high that most times it is impossible for majority of Nigerians to have access to court. The result is that Nigerians, especially those from the Niger Delta region who are the usual victims of oil spillages, pollution and other environmental hazards, find it extremely difficult to exercise their legal rights when these petroleum-related activities adversely affect their normal activities.[xi]
Thus, the right of an accused person to be given adequate time and facilities for the preparation of his defense need not result in undue delay in the dispensation of justice which has been said to be a three-way traffic; for the plaintiff, the accused and the society at large.[xii]
1.3.3. Effect of Some Constitutional Provisions.
It is ironical that some of the constitutional provisions basically designed to guarantee the protection of fundamental rights, unwittingly have the effect of precipitating delays in the judicial process. In this connection reference must be made to some provisions of the 1999 Constitution.
Section 36 (6) (b) for instance, provides that "every person who is charged with a criminal offense shall be entitled to be given adequate time and facilities for the preparation of his defense". This provision goes a long way in protecting and safeguarding the fundamental rights of citizens; unfortunately, this constitutional provision is being misinterpreted by the courts.
The guiding principle has been to ensure that an accused person is allowed to utilize the available opportunities to properly present his defense in a criminal case; however, the application of this rule should not result in undue delay, but in the peculiar circumstances of Nigeria, with the ubiquitous Nigerian factor,[xiii] it has often resulted in prolonged delays and has often been abused.
1.3.4. Illiteracy.
Another significant obstacle to the realization of access to justice in Nigeria is the high level of illiteracy prevalent in the country today. It is most unfortunate that the socioeconomic structure of the country has made it impossible for the vast majority of Nigerians to have access to education. This problem has been worsened by the current collapse of public schools, including universities which has now made education an exclusive commodity to be purchased and consumed by the bourgeoisie through private institutions[xiv]
However, it is not a new thing that an educated man will easily adapt to the realities of the situation and have the intellectual capacity to insist on the enforcement of his rights, quite unlike the illiterate. Education thus empowers him to maximize the opportunities and resources available in his environment. The point must be made that since education has the capacity of liberating the individual from ignorance, poverty and disease, the lack of it has serious mental, political and economic implications which greatly impedes access to justice in Nigeria
1.4 RIGHT OF AN ACCUSED PERSON UNDER NIGERIA LEGAL SYSTEM.
When an [accused] person is described as having rights, his acknowledge to be entitled to something which he has just claimed under the law.[xv] However, Section 35 (4) of the CFRN 1999 (as amended ) provides that a person who is arrested or detained by the police should be brought to court within a reasonable time. Where such an arrested person is not tried within a period of:
(a.) Two months from the date of his arrest or detention, in the case of a person who is in custody or is not entitled to bail: or
(b). Three months from the date of arrest or detention in the case of a person who has been released on bail, he should (without prejudice to any further proceedings that may be brought against him), be released either unconditionally or upon such conditions as are reasonably necessary to ensure that he appears.
The Constitution is the major domestic statute that provides protection for persons accused of crimes. Besides the fundamental human rights provisions which have some elements of equal protection and equal treatment of citizens, section 36 (4) of the 1999 Constitution, is specific on giving justice to the offender. These rights are stated by section 36 (4) -(12). They include:
Amnesty International reported in February 2008, that at least 65 percent of Nigeria's prison inmates have never been convicted of any crime, with some awaiting trial for up to ten years. The Report revealed that most inmates in Nigerian prisons are too poor to afford a lawyer, with only one in seven awaiting trial inmates having access to private legal representation. Also, the condition of Nigeria prison is nothing to write home about. The condition ranges from severe overcrowding, poor accommodation, bad hygiene which leads to poor state of health.[xxix] it is pertinent to note that these poor condition of the prison service has seriously damage the mental and physical health of thousands inmates.
The question is: is Nigeria government doing what it ought to, to ensure the prison system is a correctional center as it was renamed? Prisoners deserve the best of care no matter the crime they might have committed. Perhaps, this is why the government renamed the prison service as the correctional center. The prison is not meant to harden an inmate but to reform and prepare him for his return into the society. This should begin with how the inmate is treated while in custody.[xxx]
1.5 CONCLUSION.
Access to justice is an essential appendage of the rule of law and the fulfillment of the vindication of the right of the citizen. Also, it is one of the most important object of our democratic country. However, an ordinary citizen believes that justice would be served in the court. On the other hand, the court is not for an ordinary people because of the high cost of litigation and other requirements which seems very difficult for the ordinary man which leads to a great fall in access to justice.
1.6 RECOMMENDATION.
1. There should be judicial activism. In the case of Senator Abraham Adesanya v. President of the Federal Republic of Nigeria. Justice Fatayi-Williams stated it is better for people to have access to the courts than for them to act on rumors about the activities of government. This is where judicial activism comes in, as the courts will act as veritable instruments for the espousal of claims and rights
2. Efforts should be made to increase awareness of and resort to arbitration or other methods of alternative dispute resolution mechanisms in the country. Not only are these mechanisms more cost-effective, they are largely in tandem with the traditional method of dispute settlement, which had served African societies so well before the imposition of the received English system of adjudication.[xxxi]
3. The Judiciary should make sure it is free from bias and always protect citizen's fundamental rights, civil, political, social, economic rights through access to justice.
REFERENCE
---
[i] In the words of C. Oputa (op. cit., p. 12), a retired Justice of the Supreme Court: "It is a calamity to have a corrupt judge, for money – its offer and its receipt – corrupts and pollutes not only the channels of justice but the very stream itself. Honesty and judicial rectitude are therefore the very minimal requirements of the judicial office".
[ii] See Ani Comfort Chinyere "Access to Justice in Nigeria Criminal and Civil Justice System" available at https://lagalpediaonline.com/access-to-justic- in-nigeria-criminal-and-civil-justice-systems/amp/ accessed on 8th march, 2022.
[iii] Ibid
[iv] See M. I. Gwangudi, "Problems Militating against Women's Access to Justice in Nigeria" (University of Maiduguri Law Journal n. 5, 2002), pp. 13-14.
[v] See G. Akinrinmade & O. Oloyide, "The Best Models for Good Governance in Africa", in D. A. Guobadia & E. Azinge (eds.), Globalisation, National Development and the Law, Proceedings of the 40th Annual Conference of Nigerian Association of Law Teachers (NIALS), 2005, p. 51.
[vi] See Ani Comfort Chinyere "Access to Justice in Nigeria Criminal and Civil Justice System" available at https://lagalpediaonline.com/access-to-justic- in-nigeria-criminal-and-civil-justice-systems/amp/ accessed on 8th march, 2022.
[vii] C. Ake, "The African Context of Human Rights" being a paper presented at the International Conference on Human Rights in the African Context held in Port Harcourt, 9-11 June 1987, quoted in T. Akinola Aguda, Human Rights and the Right to Development in Africa (Lagos: Nigerian Institute of International Affairs, 1989), p. 26.
[viii] See also J. N. Aduba, "Human Rights and Social Justice in Nigeria: Issues, Dilemma and Options", in A. U. Kalu & Y. Osinbajo (eds.), Perspectives on Human Rights (Nigerian Federal Ministry of Justice, 1992, p. 220), pp. 229-231.
[ix] See T. A. Aguda, The Crisis of Justice (Akure, Nigeria: Eresu Hills Publishers, 1986), pp. 31-33.
[x] (2003) 15 NWLR pt. 842 p. 25.
[xi] See J. F. Fekumo, "The Problem of Jurisdiction in Compensation for Environmental Pollution and Degradation in Nigeria: A Fundamental Rights Enforcement Alternative" being a paper presented at the Nigerian Bar Association Annual Conference held in Abuja, 22-27 August 2004, p. 26.
[xii] See Ogbodu v. The State (1987) 2 NWLR pt. 54 p.20
[xiii] See N. S. Okogbule, "The Nigerian Factor and the Criminal Justice System" (University of Benin Law Journal n. 7, 2004), p. 165.
[xiv] See A. G. Shettima, "Socio-Economic Obstacles to the Realization of a Just Society: The Nigerian Experience", in Y. Osinbajo et al. (eds.), Human Rights, Democracy and Development in Nigeria (Lagos: Legal Research and Resource Development Centre, 1999), pp. 100-104.
[xv] See Chrisantus Oden, "The Right of an Accused Person Under Nigerian Legal System" available at https://www.projecttopics.org/rights-accused-person-nigeria-legal-system.html/amp accessed on march 8, 2022
[xvi] Section 36 (4), 1999 Constitution
[xvii] Section 36 (5), ibid.
[xviii] Section 36 (6) (a), ibid.
[xix] Section 36 (6) (b), ibid.
[xx] Section 36 (6) (c), ibid.
[xxi] Section 36 (6) (d), ibid.
[xxii] Section 36 (6) (e), ibid.
[xxiii] Section 36 (7), ibid.
[xxiv] Section 36 (8), ibid.
[xxv] Section 36 (9), ibid.
[xxvi] Section 36 (10), ibid.
[xxvii] Section 36 (11) ibid
[xxviii] Section 36 (12), ibid.
[xxix] See Oluwaleye Adedoyin Grace, ''Prisoners Right and Pitiable Situation of Nigeria Prison'' available at https://barristerng.com/prisoners-right-and-pitiable-situation-of-nigeria-prison-by-oluwaleye-adedoyin-grace/ accessed on 8th march, 2022.
[xxx] Ibid
[xxxi] See A. O. Obilade, "The Relevance of Customary Law to Modern Nigerian Society", in Y. Osinbajo & A. U. Kalu (eds.), Towards a Restatement of Nigerian Customary Laws (Lagos: Federal Ministry of Justice, 1991), pp. 1-4; A. A. O. Okunniga, Transplants and Mongrels and the Law: The Nigerian Experiment (Inaugural Lecture Series 62, University of Ife Press, 1983), pp. 20-21.
About the author:
Oluwaleye Adedoyin Grace writes from Faculty of Law, Ahmadu Bello University, Zaria, Kaduna State. She's a 200level law student, and can be reached at: [email protected] or 08106289069