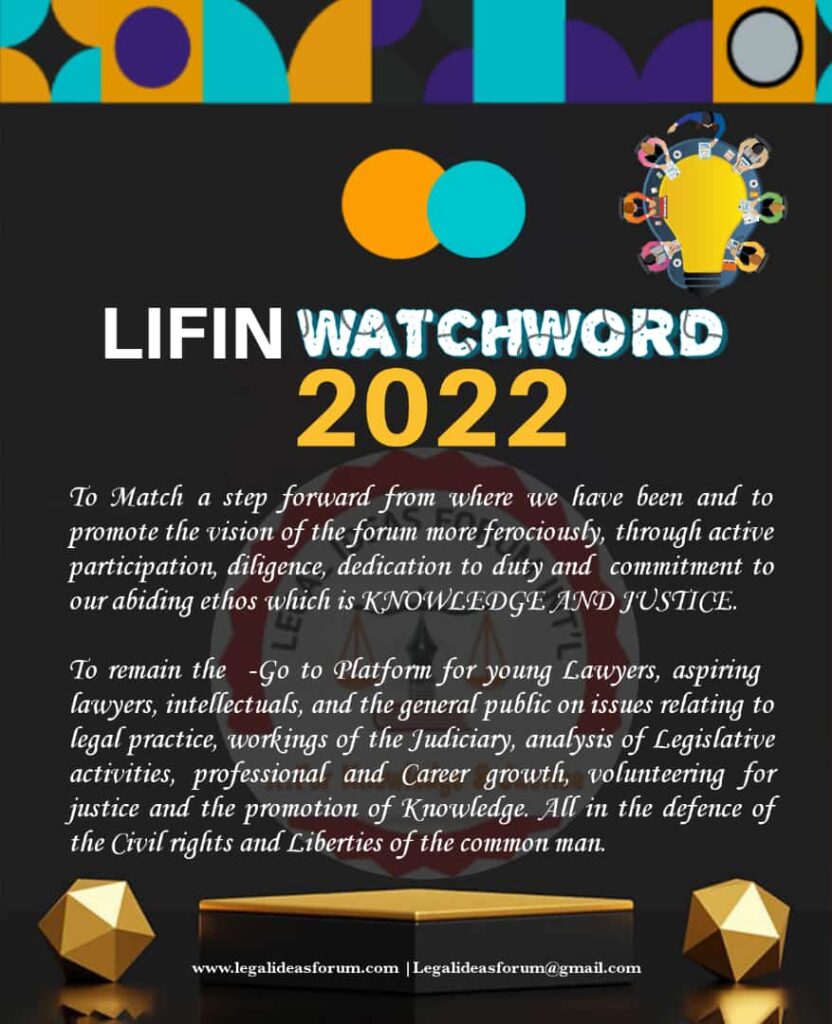 18th January, 2022.
Compliments of the season.
Dear LIFINITES,
Happy New year once again and welcome to 2022. 2021 was very intense for us as a forum. Many of us will bear witness to the fact that we never had a dull moment. It was from one event to another event, from one Symposium to another Conference. We had new voices, new faces, new perspectives, and like I promised us, we were able to reach out to numerous Speakers who you have not met before to grace our events and activities and share their indepth knowledge with us. From different parts of the world, in Europe, Asia, America and our very own Africa and Nigeria in particular.
The commitment of our workforce and the entire LIFINITES cannot be overemphasized. From sharing the flyers, to attending the events, we have shown get dedication which is the fulcrum of every growing institution. What we were able to achieve last year in terms of influence is borne from an undying zeal enamoured with a burning passion to promote knowledge and Justice no matter what it cost.
Many of us volunteered time, energy and resources to make things happen, we reached out to our numerous contact, spoke to different persons who are relevant for the purpose of executing our mandate and I must commend everyone who made this possible.
You will recall that the year ended with awards of recognition to celebrate everyone who made 2021 memorable for LIFIN and for our growing population of Membership.
This year, we shall not relented but add more pressure. We will not renege but re-engage and propel even farther than we have come. That is why this meeting have become imminent. After weeks of planning, consulting and strategizing with critical stake holders in the forum including our very own National Directorate, the LIFIN editorial board and other sub groups, we have come up with the masterplan for 2022.
LIFIN WATCHWORD
To March a step forward from where we have been and to promote the vision of the forum more ferociously, through active participation, diligence, dedication to duty and commitment to our abiding ethos which is KNOWLEDGE AND JUSTICE.
To remain the _Go to Platform for young Lawyers, aspiring lawyers, intellectuals, and the general public on issues relating to legal practice, workings of the Judiciary, analysis of Legislative activities, professional and Career growth, volunteering for justice and the promotion of Knowledge. All in the defence of the Civil rights and Liberties of the common man.
2022 is the year of LIFIN and we shall not relent until we have become a brand to reckon with in the legal, Socio-Political sphere of Nigeria and beyond. Last year was filled with numerous LIFIN programmes and each month had a cardinal event which must be done to create an all round experience throughout the year. Most were virtual and that was in the bid to test run the possibility of having and all year round event and we have confirmed the viability of the process that gave birth to that and this year, we want to replicate it in a more grand way.
2022 will see more of physical event and some portions of virtual Sessions too. To achieve this, we have resolved that the chapter will be more engaged this time in the process. This is in a bid to exert grassroot influence in the different faculties where there is a LIFIN structure.
We shall list the events, month and chapter designated to host the event in their faculty.
January – Tax Law Convention
Venue – Virtual (Lagos)
Time:10:00AM
February – Real Estate and Property Law Summit –
Host: Achievers University, Owo.
Physical Meeting
March-The Law on Insolvency and Debt Recovery Symposium
Host- Ahmadu Bello University
Physical Meeting
April – Leadership Conference
Host- Bayero University, Kano
Physical Meeting
May – Alternative Dispute Resolution Conference
Host – Chukwuemeka Odumegwu Ojukwu University
Physical Meeting
June-Finance and Technology Law Summit
July-Electoral Reform, Pre-election Issues-2023 in perspective
Host- UNIBEN
Physical Meeting
August-Entertainment Law Summit
Host- UNICAL
Physical Meeting
September – Human Rights Symposium
Host- UNIZIK
Physical Meeting
October – Medical Law Conference
Host- Usman Danfodio University, Sokoto
Physical Meeting
November – Corporate/Commercial Law Summit
Host- UNIJOS
Physical Meeting
December – Academic Conference
We have had series of meeting at the National Directorate and the different chapter have expressed readiness to execute their programme and plans are already ongoing.
On the preparations that will lead up to the execution of the events, we have resolved to work with the LAWSAN body of each chapter, the Faculty i.e the Dean, and staff Adviser. And to collaborate with Association, Organisations within the faculty and outside the faculty.
And for participants, each chapter where the event is to hold will create awareness at the different levels from year 100 to 500 and send out invitation letter to other departments in their institution, Associations and groups too. Invitation should also be sent to other law faculties within the state or region to their Dean, through their LAWSAN President and LIFIN representative at the University.
For Speakers, they can be sourced from your lecturers, top legal practitioners within the state, government officials both at the Executive, legislative and judicial arms who have expertise on the subject matter.
The venue should be the Moot Court or Conference hall of each faculty and the duration should be 2 to 4 hours Conference.
Based on capacity of each chapter, sound system may be used, the hall may be decorated, refreshments may be provided and awards, Certificates of Participation should be given.
The order of programme will be made available to make the session top notch. Presentations, Talkshow, poem, comedy should fit into the process. Etc.
We resolved that each chapter should go to their school calendar for the year, harmonize it with the event and the Month designated to them and begin to speak to relevant Bodies on how to deliver on their mandate and make their chapter event a success.
And on this, some chapter have highlighted that they will be having exam in that month and we have started adjusting the calendar respectively to accommodate the circumstances. And details will soon be published.
The events are in the nature of NATIONAL LIFIN EVENT with venue domiciled in your faculty. Reason being that other people will the Join the session via Zoom from across the country so it needs to turn out well.
Funds can be sourced from well meaning persons within the faculty, the state and from our own end, we shall offer support too.
Details of the event and how it went should be written, typed including the presentations that were made so we can publish on www.legalideasforum.com. Each chapter that delivers on their mandate will be specially recognized by the forum and will be rewarded immensely.
Added to the above, our monthly LIFIN Colloquium and intellectual property Law Digest will continue with other new programmes which shall be added to the list.
Our Sub-events for the year include
January- LIFIN ASSOCIATESHIP PROGRAMME
-Inaugural Session for COOU LIFIN Executives
Denca Moot Court, Faculty of Law
February- Career Development Summit.
April
Juristic Visits
Physical Visits
May-LIFIN Legal Essay Competition
June-LIFIN magazine
July-LIFIN ASSOCIATESHIP PROGRAMME
August- LIFIN MENTORSHIP PROGRAMME
September -LIFIN Moot Court Competition
October-Book club
November – Online Course on non Law related subject for all LIFINITES
-Coursera
December – LIFIN EXCELLENCE AWARDS
-Virtual
Our international events for the year which we shall be commemorating include:
January 24- International Day of Education
February 14- Valentines day
March 8 – International Women's Day
April 23- World book and copyright Day.
May 1- workers day
May 3- world press freedom Day
June 5- world Environment Day
June 12- Nigeria Democracy Day
August 12- International Youth day
September 4- LIFIN 7th year Anniversary
Sept 8- International literacy day
Oct 1- Independence Day Special Lecture.
Oct 11- International Day of the girl child
Dec 3- International Day of persons with disabilities
Dec 10- Human rights day.
It will require deep commitment from us all to make them a success.
We shall also be having Mentorship series for Law school students. Every second and third Sunday of the month from January to March.
This year, we want to partner with a large number of organizations. If you have contacts, links that can help facilitate our events, do reach out to us.
LIFIN MEDIA 2022
OUR WATCHWORD
To impact the Nigerian Social Media sphere through improved assemblage of quality contents, promotion and distribution to relevant audience on all our media platforms.
To shape Legal discussions and narratives through active campaigns, effective and efficient mobilization of our publications on corporate and individual platforms where legal, political and Socio-economic topics are discussed.
To be the – Go Platform for the publication and dissemination of legal articles, submissions, opinion and to promote a total learning experience, valuevto all our viewers, readers and subscribers.
This year, we shall be having the very edition of the LIFIN Magazine, we shall call for papers from reputable and erudite scholars. Do well to begin now and write on a salient area of law.
We have also made important Appointment and delegation if duties for the smooth administration of the LIFIN MEDIA comprising our website, LIFIN TV, social media handles. We hope that they shall discharge their roles to give us a better experience across all our platforms.
We shall be having podcast sessions to harness the opinion of scholars on issues of burning concern. And this shall be disseminated on all our platforms.
We shall revitalize our Youtube channel. We already test run what we want on it and will build on that going forward.
The appointments include:
Editor in chief – Njoku David Chibueze
Head of Operations – Obi Ekene Raphael
Content Director/graphics editor-Olatunde Temidayo Olamide
Project Manager – Vivian Ugochukwu
Brand/social media Manager- Lois Chinaemerem Ogbu
Associate Editors- Nweke Fabian, Onyeakpa Chizoba, Matthew Okpara, Okereafor Priscilla, Ajide Stephen, Solomon Oluwaseun Olukoya,
Public relations specialist-Oringo Bamidele
Communications Manager- Azike Stanislaus, Alkasim Abubakar
Social Media Influencers-Open
This year, we want to see tangible results and I'm certain that this team will deliver. Meanwhile, if you want to be part of the LIFIN MEDIA GROUP, don't hesitate to reach out to us via le[email protected] with your CV and it shall be considered.
I urge us all to put in our best. Remember how we began, why we began and where we are headed. As we look forward to more updates, let's adjust our schedules accordingly. Be ready to learn, be willing to act, be dedicated to the cause of Promoting Knowledge and Justice.
Ours in Service
Njoku David Chibueze
President, LIFING